About
Robyn Higgs
Co Founder / Director of the Performing Arts
Goto Interview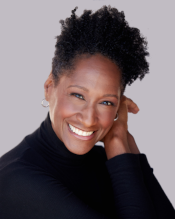 Robyn Higgs was born in Brooklyn, NY, and raised in Long Island, NY. At the age of 14, Robyn found herself falling into a deep suicidal depression. Discovering her gift for dance created a reason to awake each morning and a reason to press through the darkness. Robyn began her formal training in dance with the Venettes Cultural Workshop (VCW) , a performing arts outreach program, in Wyandanch, NY. It wasn't long before she realized that she possessed a natural talent for dance. At the age of 16, Robyn was accepted into the Long Island (B.O.C.E.S) High School program for the performing arts.

Upon graduation, Robyn was awarded a scholarship to the prestigious Alvin Ailey American Dance Theatre's, "Ailey School". The Ailey school shaped and molded Robyn's gift in a way she could have never imagined. In her 3rd year of training, she was personally selected to perform under the direction of Kelvin Rotardier, one of the original Alvin Ailey principal dancers and master choreographer..

After leaving Alvin Ailey, Robyn landed a principal position with "Dance Brazil!", traveling the US and Europe, dancing the role of Mira in the stage version of the renowned Black Orpheus. Robyn also danced background for several prominent recording artists. As a Runway Model, Robyn graced many runways, including the very first New York Fashion Week, sharing the runway with fashion diva, Naomi Campell.

In 1994 Robyn relocated to Georgia and shifted her focus to dance education. Throughout her 30 year career, Robyn has held the title of director and lead choreographer, at several Dance Studios and programs. She is an invited speaker, facilitator, and choreographer at dance conferences throughout the United States and abroad.

Robyn continues to hold leadership positions within the dance community and is signed with a prominent modeling agency as a print/commercial model.

Robyn is a passionate leader in the dance community who loves working with youth and sharing her love for dance. With over 30 years of professional dance and teaching experience, she brings a wealth of professionalism and leadership to the art of dance.

Her desire is to provide a place for youth to explore their passion and giftings at a level of excellence, while affording them the opportunity to feel safe in a disciplined and structured environment. Robyn understands that finding your 'Gift' is what makes you tick, and can ultimately save your life.
Interview with Robyn