About
Shellee Wilson
Vocal Coach, Music Therapist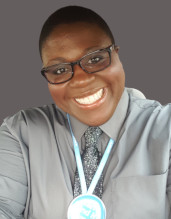 Shellee Wilson was born in Fairfax, VA and is a native of Woodbridge, VA spending a great amount of her time at her grandmother's house in Fort Lincoln, Washington, D.C. In early years Shellee's interest in music bloomed with a family blessed with several musicians. Her father, Rev. Cicero Wilson, was a successful percussionist who devoted himself to this art. It was one of his passions and a way to support his new family and Ivy League studies. Her mother sang, her oldest sister, Krystine, went on to study the flute and became a member of the popular Marching Royal Dukes at James Madison University. She spent many weekends as a child going to see her sister perform while at school. Her sister Traci played the alto saxophone, her uncle was accepted to Oberlin University for the trombone. With all these musicians, all she thought about often was music and double dutch. With these examples, when her family moved to Georgia, she decided to study piano and voice.

In 1997, she made history as being the first black student to be accepted to the Georgia Regional Girls Choir (now the Greater Atlanta Girls Choir). This group of young ladies traveled the world and participated in national competitions. She went on to be accepted to North Springs Charter School of Performing Arts and Sciences in Atlanta, GA. She was one of the six young adults to be awarded the Georgia Music Educators Association Music Scholarship. She decided to start her undergraduate studies at Clayton State University, home of "Georgia's Carnegie Hall", Spivey Hall. She got her Bachelor of Music in Vocal Performance and a Bachelor of Arts in History. While at Clayton State, she was able to accept a history internship at the Smithsonian's National Museum of the American Indian and travel home.

After her undergraduate studies, Shellee went to Southern Methodist University and received her Master of Music in Vocal Performance. After which, she returned to Atlanta and became an understudy principal Mezzo Soprano for the Atlanta Opera. While there, she joined Roswell Presbyterian Church as a member of their sacred music acapella group, Cantate Coeli. From their performances, she received an offer from the Royal Opera House in London. In 2010, Shellee decided to continue her performance career but also start thinking about how she could give back to her community and inspire children and young adults just as she was as a child. She decided to go back to school. She went to Ashford University and received her Master of Education in Early Childhood Education and became a certified music therapist. A year before her sister Krystine's death, she decided to keep her promise and start her own company (Melody Fusion) teaching children and she has not looked back.