About
Derek Higgs
Co Founder / Director of the Performing Arts
Goto Interview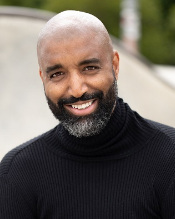 Derek is a native New Yorker, born in Brooklyn, NY and raised in Jamaica, Queens. His life took a turn for the worse when he entered high school. He began following the wrong crowd, hanging out in the hallways, and skipping school. To avoid consequence both at home and at school he decided to run away. At age 14 he was living on the streets of NY. That did not last long and after returning home Derek was sent to a juvenile detention home.

Through the support of his family and the vision Derek had for his life, he was able to turn things around. After leaving juvenile detention he attended high school where he began playing basketball and earned a full scholarship to Bryant University. While there Derek was a tutor, teaching assistant and had an internship on Wall Street. He also made the 1,000-point club and graduated as the 11th leading scorer in school history.

Derek had a very successful career in corporate america and armed with his belief that we should step outside of our comfort zone and live a life of purpose, he left corporate america and founded Higgs Leadership Development where their focus is helping business leaders & organizations positively impact their bottom line by showing them how to increase employee engagement and overall individual performance.

He has coached youth sports for over 30 years and has served as the director of various youth mentoring programs and once organized a partnership with the Gwinnett County North Metro Program, which serves students with Emotional and Behavioral Disorders (EBD).

His life experiences helped fuel his passion for working with youth and that passion led he and his wife Robyn to start the Sapphire Youth Development Center where their vision is to create a place where kids can be inspired to dream and gain a vision for their lives. Through in-house built curriculums and strategic partnerships Sapphire provides tutoring services, leadership and mentoring programs, theater and arts programs which includes dance, acting, voice lessons and music.

In his spare time, Derek enjoys spending quality time with his family and close friends, taking long walks with his wife Robyn and an occasional round of golf.
Interview with Derek